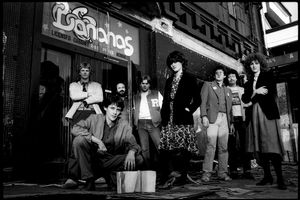 Slowly, other gigs like Martini's and then the Central Club and the Prospect Hill became our second homes. The crowds grew and so did our repertoire and reputation. 
Our manager, Ian Lovell had us pasting Goanna posters all over Melbourne in the wee hours. He was there too. We had our own resident graphic artist in Judi Kenneally and others and we churned out legendary artwork and glued them to the factory walls and underpasses of Melbourne. 
Drummer, Greg Martin, was replaced by Robbie Ross and Ian wanted to bring my sister Marcia in to the band. I was resistant. She was my 'little' sister, she was still very young and had just completed primary teacher training. The Rock n Roll world was not for the faint-hearted but Marce was super keen and Ian won that round.
Slowly and steadily, we began to get a foothold in Melbourne.
(By Shane Howard 2020)