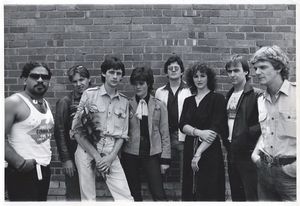 Then we got word that James Taylor was to tour Australia for the first time. I'd been a big fan since Fire & Rain and the Sweet Baby James and Mud Slide Slim & The Blue Horizon albums. We dreamed the impossible; that we could get the gig as the support act for the James Taylor National Tour in September 1981.
Around this time we complemented our expanding line up with another gifted lead guitarist, Graham Davidge. Graham was very different in style to Warrick and the complemented each other.
Our manager, Ian Lovell, passionately implored the promoter Garry Van Egmond and his deputy, Steve Fraser, to give us the spot on the tour despite the fact that we had no album and no real track record other than our live performances around Melbourne. They loved the band and they loved Ian's passion and we got the gig.
Photo: Billy Cummins (Inda), Robbie Ross, Shane Howard, Marcia Howard, Peter Coughlan, Rose Bygrave, Graham Davidge, Warrick Harwood, at MEH Rehearsal Rooms, South Melbourne.
(By Shane Howard 2020)