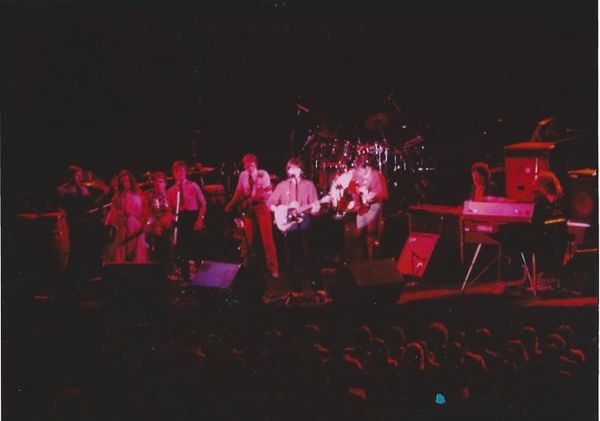 Off we went touring Australia, to Sydney, to Brisbane, then by Band Hire Bus overland to Adelaide, lost in outback Western NSW.
James and his band and crew treated us with a lot of respect and we shared some great laughs and memories. James band consisted of legendary US musicians Leland Sklar, Bill Payne, Dan Dugmore, Waddy Wachtel, Rick Marotta and Arnold McCullagh & David Lasley.
It was on this tour that we first met Bill Payne, the keyboard player and founding member of the legendary band, Little Feat. We were great admirers of Little Feat and since Goanna's early days, we included covers of Little Feat songs. It was also the first time we met Leland Sklar.
The other extraordinary thing that happened on that tour was that Warners A&R people, Gibson Kemp and Joanna Petersen, cam e to the Sydney Concert and after the show, Gibson said that he loved the band and wanted to offer us a recording contract. Suddenly, the door into the world of the worldwide music industry had opened. Exciting and terrifying. 
On behalf of the band, Billy Cummins presented James with a didjeridu. He was most appreciative and to our amazement, the first time he played it, he began blowing and circular breathing. He said it must have been a technique he learned back in his early days when he learnt to play the trumpet. It was pretty impressive and we were blown away.
Then we shuffled into an old Coaster bus and travelled the hard, budget road across the Hay plains to Adelaide. It took a few days to get there and we were pretty ragged by the end of the trip. But the country was opening up, the land was flooding into the songwriting and our world was filled with possibility.
(By Shane Howard 2020)