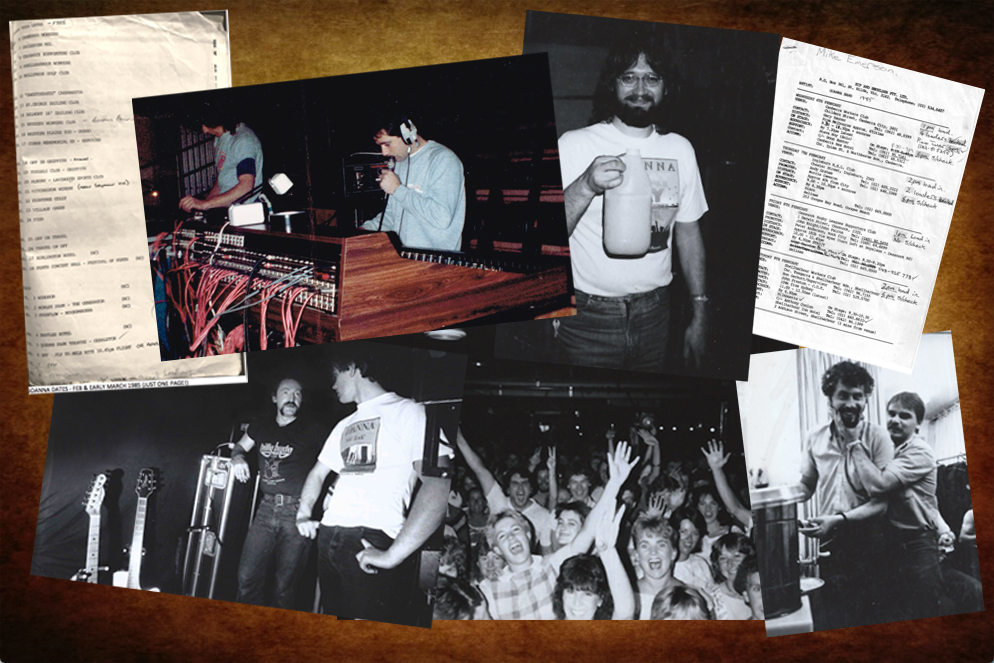 Bob Welsh was Goanna's Stage Manager forever. Bob and Gary Radbourn. Bob turned up regularly to a residency we had on Saturday afternoons at the Station Hotel in Prahran, Melbourne in 1980 or 1981. It began as a conversation and then he started helping us carry our gear out to the truck at the end of the gig. Before long, he was completely indispensable and central to the crew. Bob stated..... 
"The people who mentored me in this, my first gig with any band, were all outstanding operators in their fields and gave me the tools to work for over 40 years with a variety of fine Aussie bands.  
I would get a call at a gig at 6 o'clock in the evening and be told that there would be a Hammond organ and Leslie amp in the show tonight, leave room on stage. No problem! or "We need a didge mike for the encore" No problem! Fortunately, nobody invited a steam calliope player to join. That may have been a problem!" 
Bob Welsh 
The old adage in Goanna was, "Look after your crew, they'll look after you." We also had a rule about not doing more than 300 kilometres a day, unless it was unavoidable, in a conscious attempt to keep everyone safe on the road. We did.
At the time this tape was recorded, Goanna were doing five or six shows a week for six weeks at a time. Then we'd have a break for a few weeks and do it all again. And on and on the road went, seemingly forever. This is how it was for all those national touring bands in Australia at the time. 
Mike Emerson sent me through his worksheet from the gigs at that time and it included the crew load-in times. It's important to remember that the crew nearly always left early in the morning, to the next gig, loaded all the PA and lighting gear in to the venue and set it all up again. The band would arrive about three hours later and soundcheck. You'd then eat dinner together, get dressed and do the gig. Afterwards, the band would leave after seeing fansand signing autographs and the crew would tear all the staging, lighting and PA down again and load it into the truck. 
It was no easy life but our core crew guys were the salt of the earth and stood by us through thick and thin. 
That core crew rarely changed, but lots of casual crew guys came and went. It was also a male dominated world back then, in the early 1980's. At the time of this Tour, the Goanna Band crew were: 
Tour Manager: Adrian Anderson, Front Of House Audio: Mike Emerson, Stage Managers: Bob Welsh, Gary Radbourn, Lighting Designer & Operator: Peter Lothian, Monitors: Peter Marshall. 
The Goanna Band came out of Geelong and eventually relocated to Melbourne. The production company, DB Concert Sound, who were also a Geelong business, came with us all the way, from Geelong to Melbourne and right across Australia. From East to West and North to South, we trucked Bill Dart and Kevin Bishop's PA and lighting systems around the country.  
Here's to you Bill and Kevin and to Bob Welsh and Gary Radbourn who came on the long  journey with us as well. Thanks to Allan Kelly and Brian West and all you Goanna crew guys and one gal.  
There's no show without the crew and this recording bears witness not only to a great band in full flight but also a great crew who made those great shows happen, night after night. 
And let's raise a parting glass to all the road crew we've lost along the way, who've gone to set up the great concert, just beyond the horizon, where we'll all meet again. 
Download/Stream the album here: https://ffm.to/goannaliveatthecanberraworkersclub1985